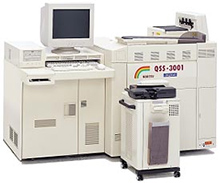 QSS 3001
Minilab NORITSU QSS-3001 Digital consists of a compact printer-processor and a film scanner, structurally made as a separate unit.
Special technology developed by NORITSU, enables high-quality photos at a speed of 1,160 impressions per hour 89h127 mm format as a digital photo paper, and the traditional, analog, with a resolution of 320 dpi. These capabilities, along with many other advantages, reduce your costs and enhance space in the photographic shop.
Minilab equipped with advanced exposure system, which is based on laser light sources.
Features of NORITSU QSS-3001 Digital
Fully digital operation, from scanning to printing.
Using high-speed scanner and precision unit image transfer to paper in the NORITSU QSS 3001 Digital provides digital processing of images obtained from different sources, with surprising ease of operation.
Compact design.
Minilab NORITSU QSS-3001 Digital, which consists of a compact printer-processor and a separate film scanner, occupies an area of just 1.39 m2. The scanner can move that allows it to fit in a convenient location and more efficient use of store space.
Capacity approximately 1,160 prints / hr
Despite its modest size, minilab NORITSU QSS-3001 Digital has a capacity about 1,160 prints per hour format 9х13. This is a record number for fully compact digital minilabs.
Laser exposure unit
NORITSU QSS-3001 Digital is equipped with the latest laser display unit, which uses a special technology developed NORITSU, allowing the digital printing with a resolution of 320 dpi as a special digital and the traditional, analog, photographic paper.
A set of digital I / O devices
Along with the use of film (negative, positive, black and white) as sources of images, NORITSU QSS-3001 Digital also manufactures printing from digital cameras, CD-R, DVD, MO and ZIP. In addition to printing of silver photographic paper, QSS-3001 Digital allows you to offer services to record graphics files to any types of digital media, including recording CD.
Automatically remove dust and scratches (optional)
Perhaps the use of technology Digital ICE, which detects and corrects dust and scratches on the films still in the process of scanning. This feature is very useful for printing large formats and production photos from slides.
Universal automatic frame (optional)
Minilab NORITSU QSS-3001 Digital can be equipped with a universal avtonegativnoy frame, which works with both 135-mm film, and with the APS. Switching between types of films produced by a simple turn of a lever which changes the distance between the guides.
User-friendly
Digital minilabs can do much more than their optical predecessors, all kinds of operations. Therefore, usually means that the operator`s work becomes more complicated. But this does not apply minilab NORITSU QSS-3001 Digital, because its interface is so simple and friendly to the operator, which allows him to produce pictures vysokogokachestva, even almost having no experience.
Easy maintenance
Minimize the time spent on daily test. This and other features (such as avtodolivka water and automatic washing crossover) operator makes the work less tedious and more rapid.
Colorimeter (standard)
The colorimeter is used to minimize the difference in color between the image on the monitor and prints. This will help to produce images of high quality.
Technical parameters
| | |
| --- | --- |
| Performance | 1000 (102x152 mm) |
| Paper Width (mm) | 82,5-210 |
| Print size (mm) | from 82,5x117 mm to 210x356 mm |
| Film Types | Color negative and slide (including the box), b / w negativy110, 135F/H/HD/FP, APS (C, H, P), 120 (6x4 ,5-6x9) |
| Photometric system | Scanner |
| Number of stores | 1 (one) may use two (2) |
| Length / width / height (mm) | 2112/754/1295 |
| Net Weight (kg) | 585 ±10 |