G4 XE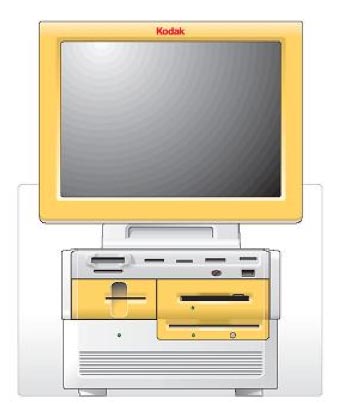 Creating beautiful, personalized new products quickly and easily is what consumers love most about the KODAK Picture Kiosk. With our new KODAK Picture Kiosk G4XE Solutions, you can offer your customers the exciting premium products they want — now with more benefits for your bottom line. Faster service for more premium opportunities With our new G4XE Solutions, mom can get more done in less time.* Enhanced speed and improved workflows make the most of her precious shopping time and let you squeeze out every drop of opportunity for your store. In the time it previously took her to make just one or two items, she can now make so much more*:
G4 XE key features
---
The speed advantage – We`ve revved up the performance on our new KODAK Picture Kiosk G4XE Order Station for our fastest speed ever1. Quickly uploads and manages larger image files in a snap. Keep your queues moving and customers happy. You can deliver more premium products, faster.*
Up to 70% Faster - To create a KODAK Picture Movie DVD*
Up to 44% Faster - To create standard order of 4x6 prints*
Save energy. Save money. – Enhancing sustainability is just smart business. Our G4XE Solutions bump up the performance while reducing power consumption.
Less Power - Uses up to 25% less power2
Reduced CO2 Emissions – 157 Kg CO2 /Kiosk per year3
What`s the impact? - For every KODAK G3 Kiosk replaced with a G4XE this year, CO2 emissions are reduced. How does that equate to the impact of using gasoline? G4XE saves the equivalent CO2 emissions as burning 6 litres of petrol.4
Savesyoumoney–Save$26/Kioskperyear.5 Everycostreductionmatters. Managing a fleet? That`s a tidy sum. Right to your bottom line.
Smart software. Powerful influence. – Every KODAK G4XE Kiosk ship;s with our proven, intuitive software to help deliver incremental, premium sales. Our kiosks may rival your most valuable employee for savvy selling techniques and results. Latest merchandising enhancements include:
Intelligent Cross Selling tools - Uses real consumer photos from their order to create instant, on-screen, sample products. Very impressive results.
Fresh Attract Loops & visuals - Designed to draw and inspire a crowd – selling every minute you`re open for business!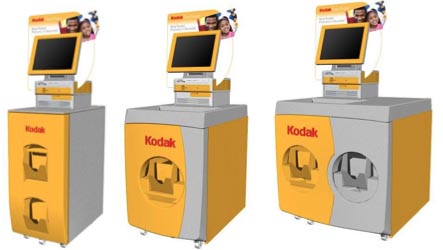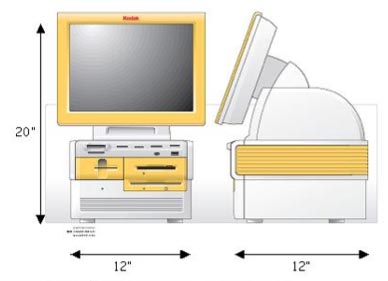 ---
SPECIFICATIONS
Operating System - Intel Core2 Duo/3.0 Ghz Processor, 2 GBytes RAM, 160 Gbyte Hard Drive
Monitor - Touch Screen, 15" diagonal, 1024x768, VGA
Electrical Operating Info
Voltage: Auto-selecting
Voltage Range: 100-127/200-240 V AC
Hz/Cycles: 50/60 Hz
Power Consumption: Maximum 2 amps for Order Station
Dimensions (Height x Width x Depth): 54.61 x 30.48 x 30.9 cm
21.5 x 12 x 12.2 in.
Weight: Does not include media: 22.7kg/50lbs
Environment Requirements
Temperature: 15-30°C (59-86°F)
Relative Humidity: 15-86%
Environment Requirements
Auto media detection of: Compact Flash, MultiMedia Card (MMC), Secure Digital Card (SD), Mini SD, Memory Stick®, xD Picture Card, Mobile Phone and PDA devices enabled with BLUETOOTH 2.0 Technology, CD-ROM, DVD-ROM, USB memory devices, KODAK Picture CD, KODAK Picture Movie DVD.
New Tray Load CD/DVD drive for improved operation
RFile formats: JPEG, TIFF and BMP
Print speed - 50 seconds first print 44 seconds subsequent prints
Maximum image size: Up to 20 x 30 cm (8 x 12")
Christopher - christopheryakubu12@gmail.com

April 30, 2021

Technical Support: Fuji

I need some one that can give me his phone number and teach me how to service and run fresh installation on my fujifilm LP 1500sc digital mini lab frontier 355 and I will pay.. Thanks

Murat - info@modadigital.com.tr

April 22, 2021

Technical Support: Durst, Chromira, Oce, Kodak, HP, Epson

Hello

Durst Thate 76 For
User Manegement Administrator Password :? Help me

JESSE - gameshotsmidland@gmail.com

February 21, 2021

Technical Support: Fuji

ERROR W-2471 I have replaced motors M301, M302, & M303 but I still cant get any prints to go through. Not even a test print.What sensor or other motor should I try to replace next? Other suggestions? PLEASE! I have a FUJI 340. I forgot to list my print lab model previously.
Compramos, vendemos, reacondicionar y reparar diferentes marcas de como: