Photo Printer 6800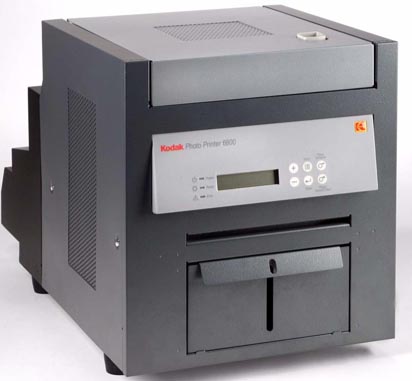 The Kodak Photo Printer 6800 is a model of computer printer manufactured by Eastman Kodak whose purpose can be inferred to be for printing 6-inch-by-8-inch photographs. According to Kodak`s news release (as cited in the "References" section), the 6800 takes advantage of "thermal" printing technology.
Equipment Specifications
---
Unpacked
Height: 346.0 mm (13.6 in.)
Width: 290.0 mm (11.4 in.)
Depth: 498.0 mm (19.6 in.)
Weight: 25.0 kg (56.0 lb)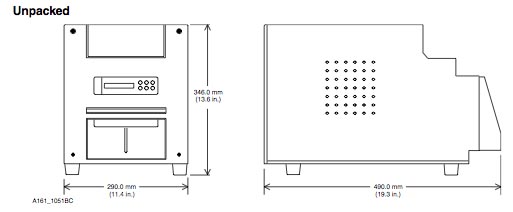 ---
Site Specifications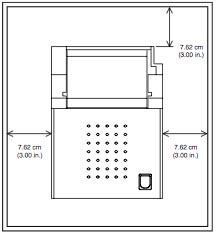 Space Requirements
Right side: 7.62 cm (3.00 in.)
Left side: 7.62 cm (3.00 in.)
Front: 7.62 cm (3.00 in.)
Back: 7.62 cm (3.00 in.)
Power Requirements
The PRINTER has an auto-detecting power supply.
Voltage: 90-264V AC
Power Consumption: 5.0 - 2.5 A
Frequency: 50 / 60 Hz
---
Environment Requirements
Space Requirements
Ambient Operating Temperature: 15 - 35° C (59 - 95° F)
Relative Humidity: 20 - 80% non-condensing
Sound Level (idle): 54 dB or lower
Sound Level (printing): 70 dB or lower
Ambient Light: 1500 lx in all directions
Requirements for Storing the Consumables
Specification
30°C(86°F)orlower
Do not store in direct sunlight
60% relative humidity or lower
Consumables - Paper and Ribbon
Christopher - christopheryakubu12@gmail.com

April 30, 2021

Technical Support: Fuji

I need some one that can give me his phone number and teach me how to service and run fresh installation on my fujifilm LP 1500sc digital mini lab frontier 355 and I will pay.. Thanks

Murat - info@modadigital.com.tr

April 22, 2021

Technical Support: Durst, Chromira, Oce, Kodak, HP, Epson

Hello

Durst Thate 76 For
User Manegement Administrator Password :? Help me

JESSE - gameshotsmidland@gmail.com

February 21, 2021

Technical Support: Fuji

ERROR W-2471 I have replaced motors M301, M302, & M303 but I still cant get any prints to go through. Not even a test print.What sensor or other motor should I try to replace next? Other suggestions? PLEASE! I have a FUJI 340. I forgot to list my print lab model previously.
Compramos, vendemos, reacondicionar y reparar diferentes marcas de como: